home   /   Club Events   /   Event Photos from 2014
Who said that getting there was half the fun?
(It was a late dinner because the train was very late.)
Leaving for the Auto Museum
Our evening's entertainment
"Ring of Fire," a musical based on the music of American singer-songwriter, Johnny Cash. The production, while not a biography of Cash, uses 38 of his songs to celebrate the essence of an American experience. These iconic songs tell stories of a hard life lived in the heartland, about love of partner, family, home and land.
Featuring a cast of six principles paired off to make three couples at various stages of life, the Cash lyrics conjure life experiences that are then applied to the characters. "Ring of Fire" includes some of Cash's most beloved songs such as "Daddy Sang Bass," "Ring of Fire," "I Walk the Line," I've Been Everywhere," "The Man in Black" and his final hit, "Hurt."
March 16-19 – Run to Cambria and Vicinity
Run To Cambria and Vicinity
Elephant Seals, Ragged Point and More
May 8 – Lake Oroville Dam Run and Tour
Dash n Dine May 31st, 2014
Dash n Dine May 31st, 2014
Awful Annie's, Lincoln, CA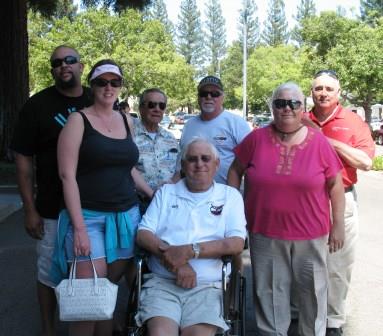 L to R – Matt, Marnie, Rod, Gary, Dave, Deb, and Bill
The Winners are, in their respective classes:
Rod 7th; Matt 2nd, Gary 2nd, Dave 4th
June 21 – Sierra Nevada House and Forresthill
June 21, 2014 Lunch at the Sierra Nevada House in Coloma and onward to Foresthill for more fun
4th of July Parade in Nevada City, CA
July 6-11 – WSCC Convention Medford, Oregon
Rogue Valley Round-Up July 6 thru 11, 2014
Judges meeting prior to event
Car most likely to be stolen – an intruder
Hospitality Room Competition
August 16 – Club Picnic @ Lake Wildwood
Annual Christmas Party December 18, 2014